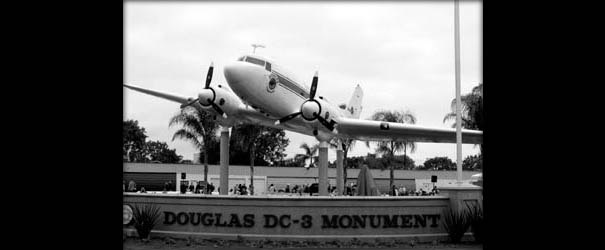 Douglas DC-3 Monument Park
Opening
Opening Ceremony
More than 1,000 active and retired Douglas heritage employees and their families convened at the Santa Monica Airport (search) on Saturday, March 21, to participate in the unveiling of a new monument park honoring Donald W. Douglas, the company he founded, and his famed DC-3 airplane.
The public site, located at Airport Ave. and Donald Douglas Loop Road, offers a restored DC-3 elevated on pedestals, a life-sized statue of Donald W. Douglas and his favorite dog "Bar," a Founders' Wall listing more than 1,000 contributors to the project, and kiosks with information on the history of the Douglas Aircraft Company. A new Museum of Flying is slated to open adjacent to the monument in 2010.
At the opening day celebration, Victoria Douglas Thoreson unveiled the statue of her grandfather, along with the aid of its creator, famed sculptor Yossi Govrin. Also in attendance were such former Douglas and McDonnell Douglas senior executives as Bob Johnson, Jim Worsham, Jim Dorrenbacher, Jim McMillan, Jack Crosthwait, Gene Dubil, Roger Schaufele, and Jim Phillips.
Donald W. Douglas (search) founded his aircraft manufacturing empire in Santa Monica just 17 years after the Wright brothers' (search) initial flight in 1903. In 1924, his Douglas World Cruisers (search) became the first aircraft to circumnavigate the globe. In 1933, he introduced the famed DC (Douglas Commercial) series of passenger airplanes that revolutionized air travel. During the World War II, Douglas manufacturing plants in Santa Monica, El Segundo, Long Beach, Chicago, Tulsa, and Oklahoma City produced more than 30,000 military planes and employed more than 160,000 workers. By the time of its merger with McDonnell Aircraft Corp. in 1967, the Douglas Company had delivered more than 43,000 commercial and military aircraft.
The Douglas DC-3 Monument Park is open and free to the public during daylight hours. Funding for the project came from the Douglas White Oaks Ranch Trust, which is administered by the Employees Community Fund of Boeing California; the City of Santa Monica; David Price, chairman of the Santa Monica Museum of Flying (search) and donor of the restored DC-3; and active and retired employees of the Douglas Aircraft Company, McDonnell Douglas and Boeing.
              - Bill Wasserziehier