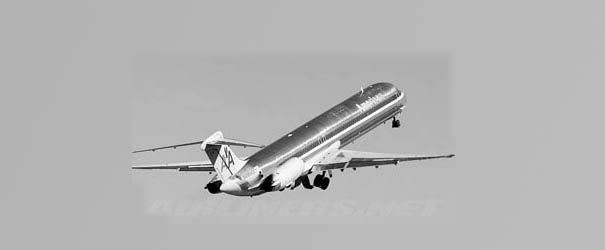 The McDonnell Douglas MD-80
December 2009
MD-80
The DC-9 program (see: Sept. 2009 Roundup) was a successful execution of the Douglas product strategy of growth in model size and performance capability as engine developments allowed. When the series 50 was produced, the growth in passenger capacity reached 139 - a 54% increase over the 90-seat Series 10.  The JT8D engine thrust had grown from 14,000 lbs to 16,000 lbs.  In all, 976 DC-9s, of all models were delivered.  Further growth of the twinjet would require more power from quieter engines and a larger wing.
Development of the new Pratt & Whitney JT8D-200 series higher bypass engines triggered early studies including designs known as DC-9-55 and DC-9-60.  The new type would into service in 1980, therefore, the project was branded the "DC-9 Series 80".
   The new model featured a fuselage 14 feet 3 in. longer than the DC-9-50, allowing an all-coach seating capacity of 172 passengers. The DC-9 wings were modified by adding sections at the wing root and tip for a 28% larger area.  Up front, the cockpit was modernized to include upgraded avionics and flight management systems. The series was certificated to meet Stage 3 noise requirements. 
   Swissair became the launch customer for the  the Series 80 in October 1977 with an order for 15 plus an option for five. The Series 80 first flew on October 19, 1979.  in July 1983,  MDC dropped  the DC-9 designation  and changed the model name to to MD-80. 
   Four MD-80 models -- the MD-81, MD-82, MD-83, and MD-88 -- are 147 feet, 10 inches  long and accommodate a maximum of 172 passengers. The MD-87 is 130.4 feet in length, with a maximum passenger capacity of 139. Wingspan for all models is 107 feet, 10 inches. The MD-80's nonstop range is from 1,500 to 2,700 statute miles, depending on the model.  MD-81 maximum takeoff weight is 140,000 pounds; MD-82 and the MD-88 are certified at 149,500 pounds. The longer range MD-83 has a takeoff weight of 160,000 pounds.  MD-87 MTOGW is 140,000 pounds, with an option to 149,500 pounds.
   MD-80s were in production for more than 19 years.  The delivery of the final plane, number 1,191, was in December 1999. (35 MD-80 airplanes were assembled and operated in the People's Republic of China.)  Prime customers for the MD-80 series were Swissair and Austrian Airlines, the original launch orders, and large fleets were acquired by TWA, American, Delta, Alitalia. and SAS.